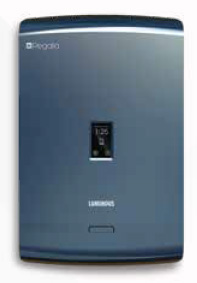 Luminous Regalia Solar UPS
It is our most sophisticated and smartest power back-up system. It is India's first wall mounted smart power back-up system, designed to suit your modern sensibilities. It is a pure sine wave Home UPS which makes it practically noiseless and highly efficient. It comes with Li-ion batteries that are maintenance free with a life-cycle of up to 10 years. Regalia not only offers style but is also a Smart device which shows you the remaining back-up and battery charging time on its display screen.
Key features
Powered by Li-Ion Battery which has 3x longer life, 3x charging speed and is 15% more efficient*
In-built Battery Management System(BMS) and safety mechanism makes it safe for use and protect against surge or short circuits
Smart Home UPS with Wi-Fi connectivity and Mobile App for device control
Colour Touch Screen to view backup time, charging time or device configuration
Battery Charging commences at input voltage as low as 100V
Warranty: 24 months on electronics and 60 months on battery
---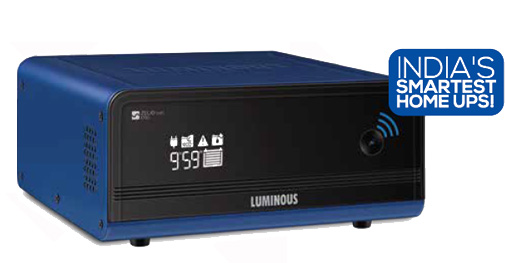 Luminous Zelio Wi-Fi
Luminous Zelio Wi-Fi is India's smartest Home UPS with Wi-Fi connectivity and displays back-up time in hours & minutes. The low harmonic distortion makes this Home UPS practically noiseless and the pure sine wave output makes it highly efficient and helps save on electricity bills.
Key features
Smart Home UPS with intuitive LCD Display, Wi-Fi connectivity and Android/iOS app
The App allows access to device statistics on your Smartphone, like Back-up time remaining, Battery charging time, Input Voltage on Mains supply, % load on Home UPS in back-up mode, Power Cut Trend and Battery Health Status
32 bit DSP Processor which optimizes charging current and calculates back-up time
Input mains protection through MCB instead of fuse
Easily Bypass the device the in case of device fault and allow mains to be available without any wiring changes
Supports wide battery range, i.e. Flat Plate, Tubular & VRLA (SMF)
Download PDF
Send Enquiry
---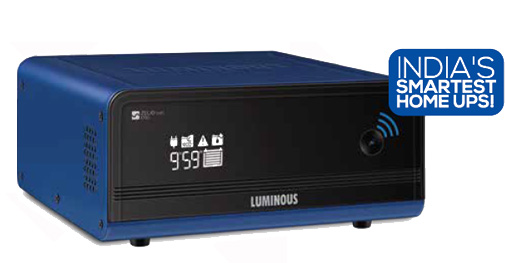 Luminous Eco Watt +
The Eco Watt series is the No.1selling Home UPS product of Luminous. It is built with advanced PCB programming, microprocessor and FSW transformer, making it highly efficient. Also, it consumes less power and is capable of taking higher load.
Key features
Battery charging commences at input voltage as low as 110V AC
Four selectable charging profiles customized to different battery types
Intelligent thermal management system keeps your system cool and shuts down the system during over temperature condition
USB port for mobile charging*
Download PDF
Send Enquiry