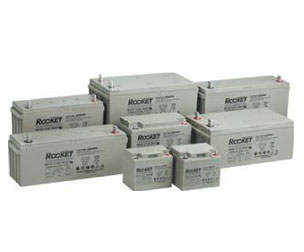 The most advanced technology of Rocket, Valve Regulated Lead Acid batteries make them highly useful in a broad range of application.Absorptive glassmat separators are used in these batteries.

The use of high-purity calcium alloy maximises the longevity of ROCKET batteries. So you will be assured with ROCKET batteries excellent performance in any circumstance.
ESC Series are specially designed to provide better cyclic If and are ideally suited for areas prone to frequent power failures. The unique construction coupled with the use of special sealing epoxies and long sealing paths of ROCKET series ensures that no electrolyte leakage can occur from terminals or cases of any ROCKET Batteries.This feature ensures safe & efficient operation of ROCKET batteries in any position.
ROCKET Batteries have excellent Deep Discharge Recovery and Charge Acceptance even after deep or prolonged discharge.


TECHNICAL FEATURES
• Non-Spillable Sealed Construction
• Absorptive Glass Mat System (AGM System)
• ABS (Acrylonitrile Butadiene Styrene) container and cover
• Gas Recombination
• Maintenance-Free Operadon
• Low Pressure Venting System
• Heavy-Duty Grids
• Low Self-Discharge - Long Shelf Life
• Wide Operating Temperature Range
DESIGNED LIFE :
• ES Series Designed for float life of 10 years at an ambient temperature of 20°C / 68°E
• ESC Series Designed for float life of 12 years at an ambient temperature of 20°C / 68°E
MAIN APPLICATIONS
• UPS Systems
• Telecom Communication Equipments
• Fire Alarm & Security Systems
• Medical Instruments
• Emergency Lighting
• Computer Backup


---